A Grim Cloud in the Midst of a Sunshine: Youth Driving Bangladesh to the Future
Posted by. Disrupt Tech. August 12, 2021
The bright sun is shining in the East! It's a sunny day. Young sprouts are growing up to be full-grown trees. They have so much to give us back. Suddenly there's a grim cloud trying to block the sunlight. Is it depression or just lack of opportunity for the little sprout to grow up? Will the grim cloud bring the blissful rain or will it bring gusts of wind and wash away the possibility of being a big tree?
Little sprouts are the metaphor representing the young generation of Bangladesh. They are trying to win big while overcoming the challenges of a third-world country. The grim cloud is a metaphor representing the challenges & lack of opportunities.
Currently, one-third of the Bangladeshi population belongs to an age group between 15 to 35 years. That is around 56 million people, capable of contributing to the betterment of the country. The young population is an asset for Bangladesh. If we can create opportunities to grow, we can have the golden days that we are seeking. After all, it takes the sun to shine for the sprout to grow.
Bangladeshi Youth Making History
The name Bangladesh does not portray a picture of a poor and starving nation anymore. The garment industries & cricket aren't the only pride of Bangladesh anymore. The new days have come waving its shiny wings of knowledge and intelligence. The young generation is at the forefront of that change!
Today, Bangladesh has great entrepreneurs, scientists, and international personnel making strategic decisions that have an actual impact. Bangladeshi young minds are joining the world's top companies i.e Google, Amazon, Facebook, etc. The name of Bangladesh can be heard at places like Harvard, MIT, Princeton, and Yale.
The following list reflects how far the young generation has come;
• Bangladeshi young kids have won 3 bronze medals & two honorable mentions at the International Mathematics Olympiad (IMO).
• Among 400 participants from 76 countries, Bangladeshi students won 1 silver medal, 3 bronze medals & an honorable mention at the International Physics Olympiad(IPhO) 2021.
• First-ever, A Bangladeshi student won a gold medal at the Asia Pacific mathematics olympiad in 2021.
• Three Bangladeshi social workers were awarded the prestigious Diana award in 2021 for 'Apnar Mask koi' campaign and others.
• Nine Bangladeshi youngsters were enlisted in the list of 'Forbes 30 under 30' in 2021 for social, economic, and technological advancement.
The list can go on and on as more and more Bangladeshis are coming up with innovative ideas to solve problems. From artificial intelligence-based facial recognition software to help out the needy, these kids are setting foot everywhere.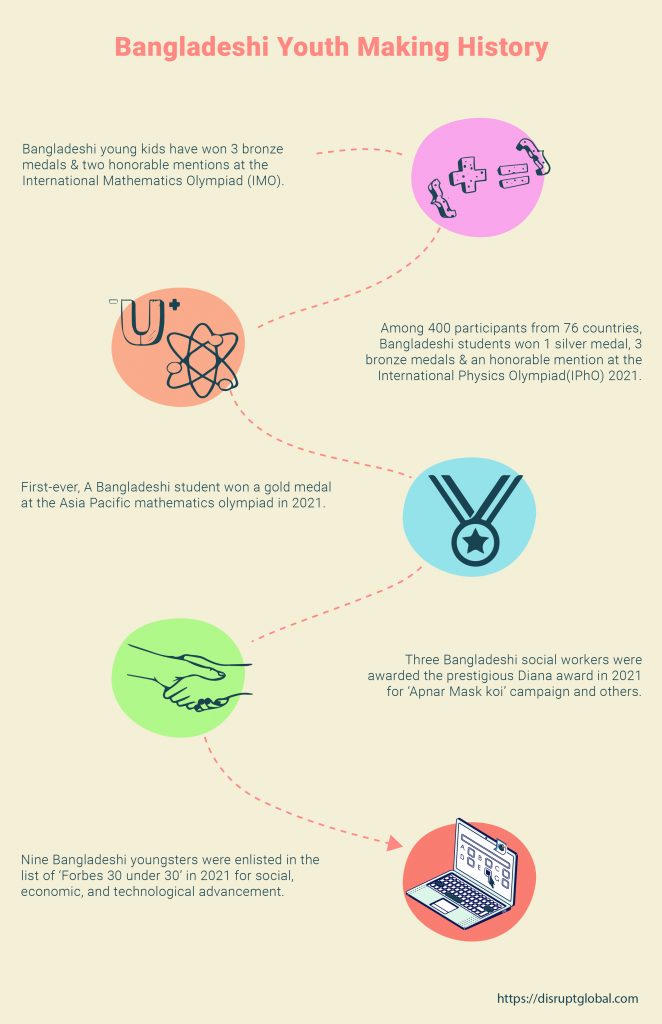 Sustainable Development Goal (SDG): Empowering the Young Women in Bangladesh
According to the United Nations(UN), there are 17 integrated sustainable development goals(SDG). SDGs help a country to get rid of poverty, ensure environmental safety and prosper a country economically. Among the SDGs, points 5 and 10 directly impact the women of Bangladesh.
Point 5 states that the countries shall ensure gender equality and point 10 stands to reduce inequalities of all sorts. Bangladesh has a GDP growth rate of 5.1% in the fiscal year of 2021-22. Even during the COVID-19 pandemic when most countries have negative GDP, Bangladesh is moving forward as they are empowering the women. Women make half of the total population of Bangladesh.
Around 33.17% of the women in Bangladesh are living in rural areas. In earlier days, women used to be less educated than men. However, recent stats show that the literacy rate among women in Bangladesh is increasing. According to UNESCO, 71.18% of the women are literate compared to 76.67% of male literacy. But in 2019, girls earned more GPA 5 than the boys in Secondary School Certificate exam.
Along with the education rate, the number of female entrepreneurs is also increasing. For an instance, a female entrepreneur named Oishy Mehjabeen from Rajshahi, Bangladesh started her dream catcher goods business. She started her journey in 2018 with 500 TK which is equivalent to $5.89. While studying English literature, she started making earrings, keyrings & necklaces to cover her cost. Currently, she has employed 4 employees in her business. Witnessing one example, more women are being interested in entrepreneurship.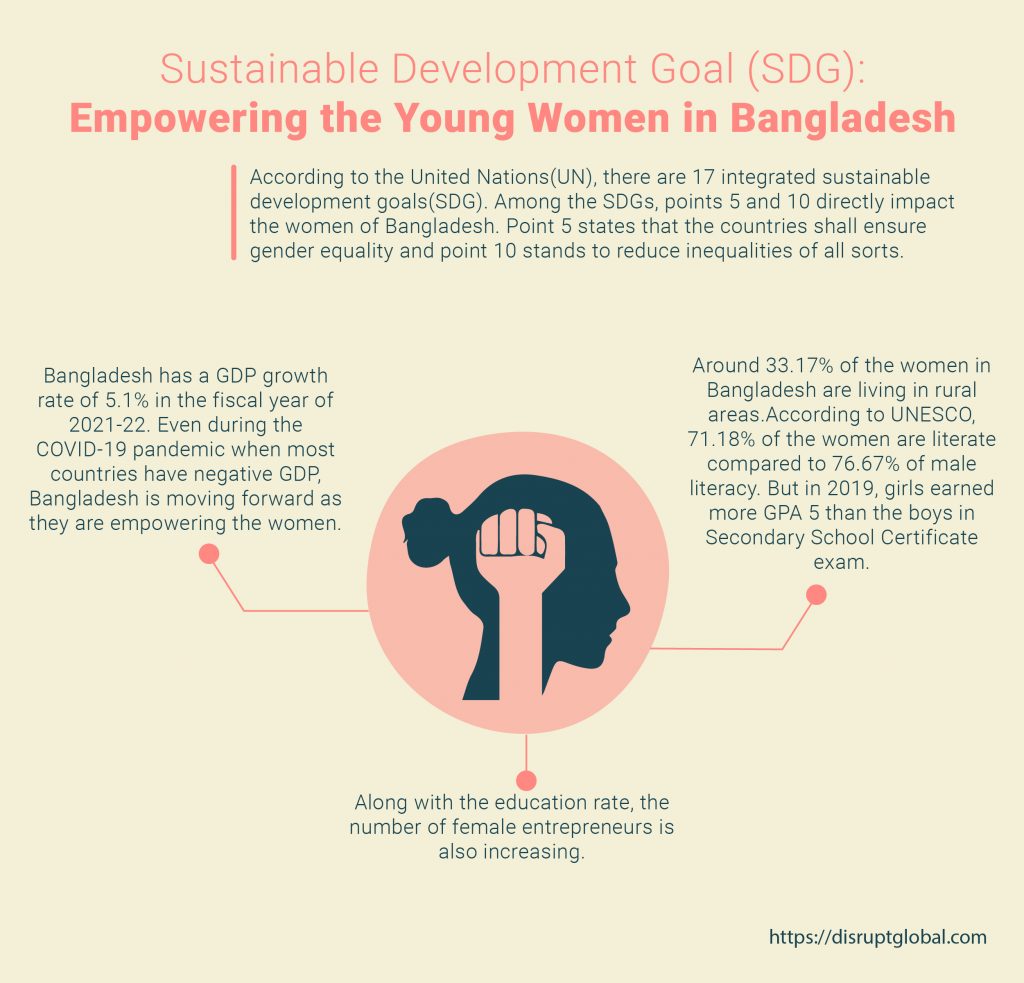 Gig Economy & Freelancing Opportunity for Youth
The population of a country can either be an asset or it can be a liability. According to the UNDP report, Bangladesh needs to create 25 million jobs within 2030. Per year, 1,600,000 new jobs need to be created. However, the country is only creating 600,000 new jobs a year. In 2021, 74% of the unemployed people are among the youth.
Lack of job opportunities leaving the youth of Bangladesh with the only perceivable option, freelancing. Thus a large number of young people are now going online. Both public and private sectors are providing training to freelance enthusiasts. There are around 650,000 freelancers in Bangladesh & the number is ever increasing.
Recent studies show, during the pandemic Bangladeshi freelancers are earning more per hour. Especially the people in the IT sector are earning around $25 per hour which is equivalent to 2124tk. Considering the median salary in Bangladesh, these payments are way above the threshold. However, freelancers may burn out in the long run. Thus, it is necessary to create permanent employment.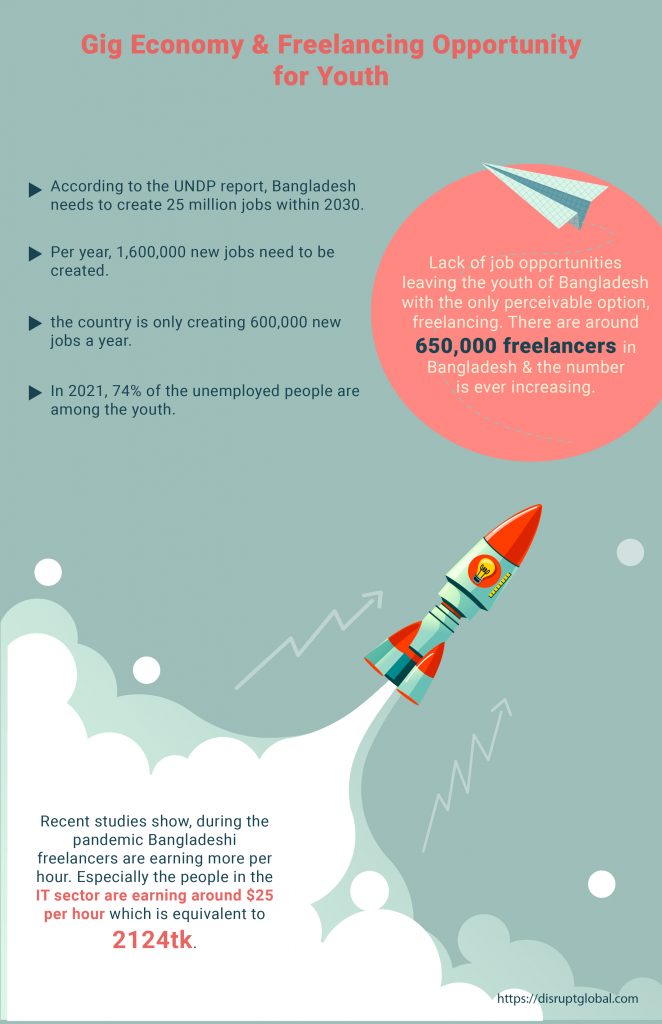 The Entrepreneurial Bangladeshi Young Generation
We discussed earlier how Bangladesh is not creating enough jobs. Thus, people are shifting towards freelancing. However, Bangladeshi youth are becoming entrepreneurial. New startup culture is forming & the government is trying to be helpful. Bangabandhu Innovation Grant 2020 (BIG 2020) is an example where the government gave away 100 crores to the winning startups.
Top Bangladeshi startups in recent years and how much they raised are given below;
Along with raising millions of dollars in funding, Bangladeshi entrepreneurs are gaining international recognition. Don Ghulam Sumdany, Fahad Ifaz, Hussain M Elius, etc are already becoming quite popular names.
Apart from these well-known entrepreneurs, there are small to medium-sized ventures growing in villages & town areas. These SME businesses are solving day-to-day problems.
Overcoming the Challenges that Bangladeshi Youth Faces
Even though Bangladeshi youth are thriving for success, there are lots of scopes to improve in many areas. According to the World Bank(WB), Bangladesh ranks at 168 among 190 countries in terms of ease of doing business. As the country is slow in adopting technology, the process of starting a new business is quite tough.
Bangladeshi youth faces problems in areas like;
Getting a Trade License
The process of licensing is lengthy. Bribery is another reason why some people are unwilling to start a business. Even though the company act 1992 is there, it is yet to be enacted in a proper manner. However, electronic licensing has recently started. A Bangladeshi person can go to the following website and apply for one.
Apply for an e-trade license here: https://www.etradelicense.gov.bd/DefaultEng
Difficulty Getting Outsourcing Income
Paypal, Payza, etc companies are illegal here in Bangladesh. Thus, a freelancer has to use online payment gateway service providers to get money from their international employers. However, Bangladesh Bank provides an option to get the money via Bank-to-Bank wire transfer. This option is more expensive.
Bangladesh government however providing a 10% cash incentive for exporting software solutions. But that scope too only can be accessed by the companies with BASIS membership. If the society helps the young generation to grow, they will become useful for the nation in future.