Chatbots and Its Impact on Digital Marketing
Posted by. Disrupt Tech. December 18, 2021
A chatbot is one such term that comes with digital marketing. In today's time, chatbots are being used as a primary communication tool in most organizations. When it comes to responding to a consumer, the chatbot is considered to be the fastest way.
According to research done by Userlike, 60% of the respondents have admitted that chatbots respond quickly and it could transfer them to an agent without any hassle.
With that note, let's go for a recap. So, what is a chatbot?
Firstly, it is an artificial intelligence-based program that uses pre-calculated phrases and auditory signals to create conversations. Having said that, chatbots are mainly used for interacting with customers and for marketing purposes. Also, it can be used as a virtual assistant.
Now that we know what chatbots are and how it is beneficial for both companies and customers, let's take a look at the ways it can impact digital marketing.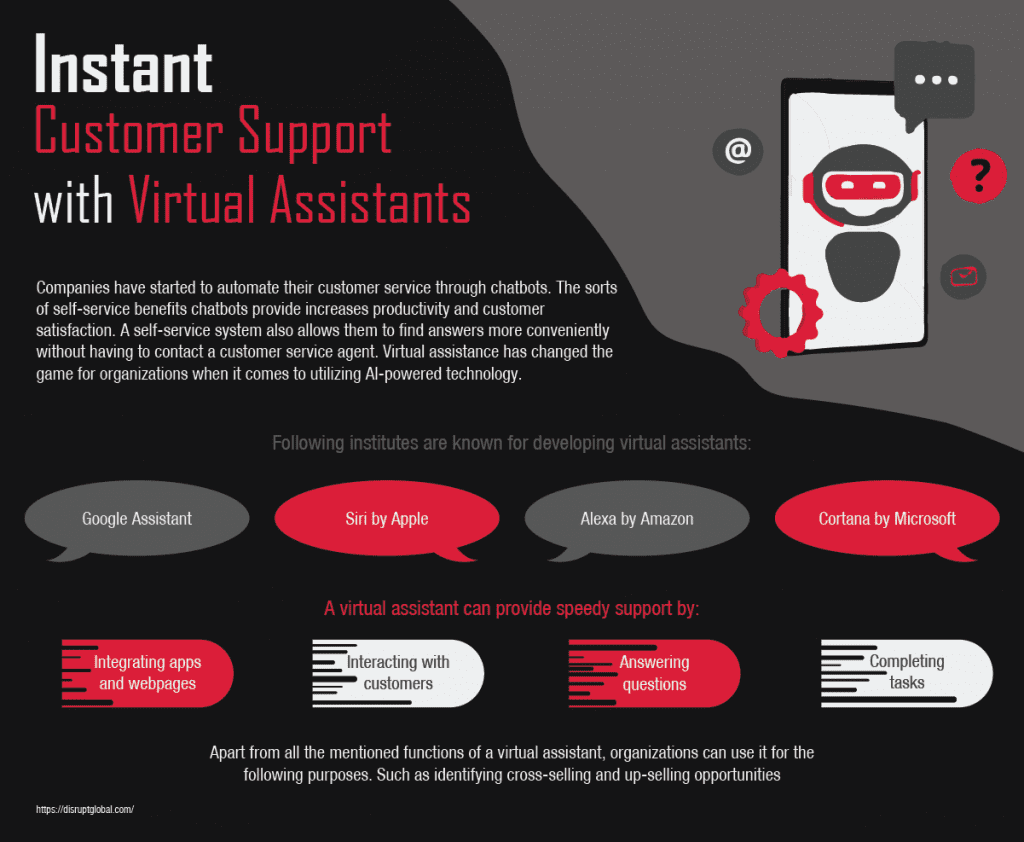 Instant Customer Support with Virtual Assistants
According to a study by Servion Global Solutions, by the year 2025, 95% of consumer interactions will be done through AI solutions. Companies have already started to automate their customer service through chatbots.
Moreover, Harvard Business Review has revealed that 81% of the customers prefer self-service facilities due to the ease of the process. A self-service system also allows them to find answers more conveniently without having to contact a customer service agent.
Virtual assistance has changed the game for organizations when it comes to utilizing AI-powered technology. Following institutes are known for developing virtual assistants.
Google Assistant
Siri by Apple
Alexa by Amazon and
Cortana by Microsoft
A virtual assistant can provide speedy support by-
Integrating apps and webpages
Interacting with customers
Answering questions
Completing tasks
Apart from all the mentioned functions of a virtual assistant, organizations can use it for the following purposes. Such as identifying cross-selling and up-selling opportunities.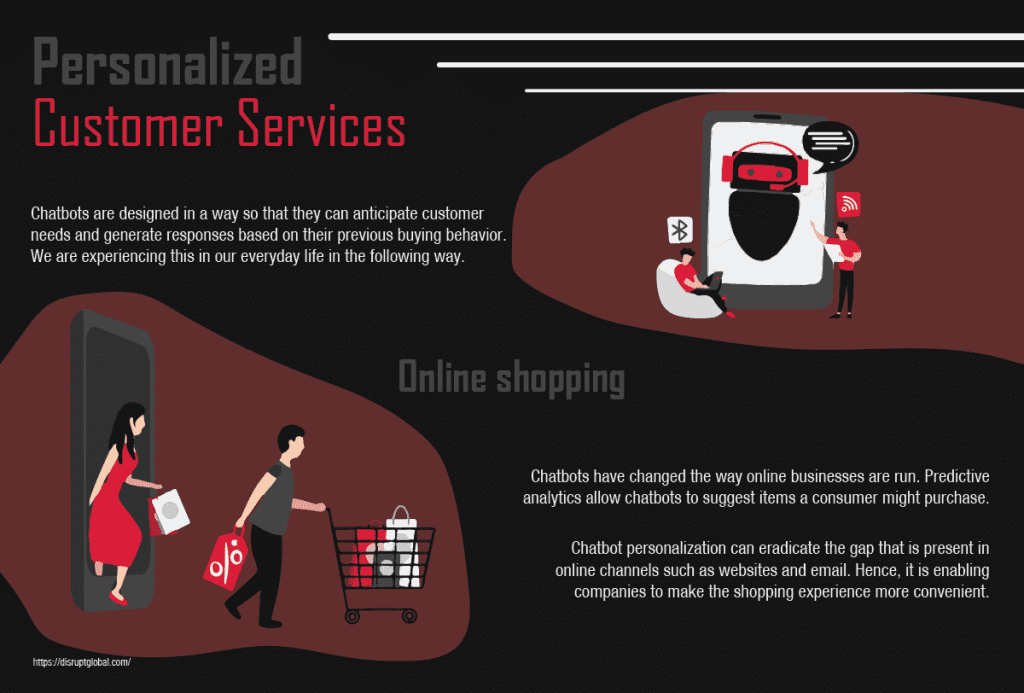 Personalized Customer Services
Chatbots are designed in a way so that they can anticipate customer needs and generate responses based on their previous buying behavior. We are experiencing this in our everyday life in the following way.
Online shopping:
Chatbots have changed the way online businesses are run. The days are gone when consumers had to wait for long hours just for a reply. Predictive analytics allow chatbots to suggest items a consumer might purchase. Amazon is one such organization that has successfully implemented chatbots to make conversations more personalized.
According to Gartner,
By 2020 people will have more conversations with chatbots than their spouses… The chatbots of the future don't just respond to questions. They talk. They think. They draw insights from knowledge graphs. They forge emotional relationships with customers.
Chatbot personalization can eradicate the gap that is present in online channels such as websites and email. Hence, it is enabling companies to make the shopping experience more convenient.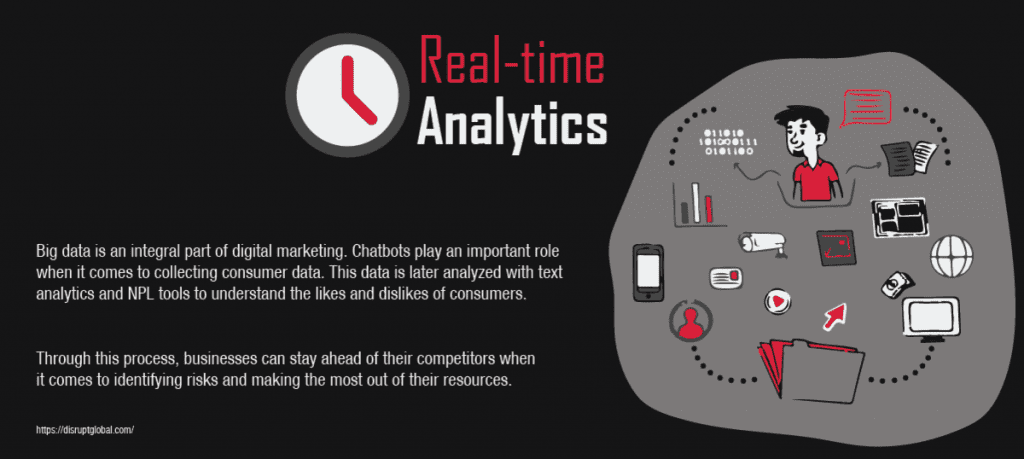 Real-time Analytics
Big data is an integral part of digital marketing. Here, chatbots play an important role when it comes to collecting consumer data. This data is later analyzed with text analytics and NPL tools to understand the likes and dislikes of consumers.
Through this process, businesses can stay ahead of their competitors when it comes to identifying risks and making the most out of their resources.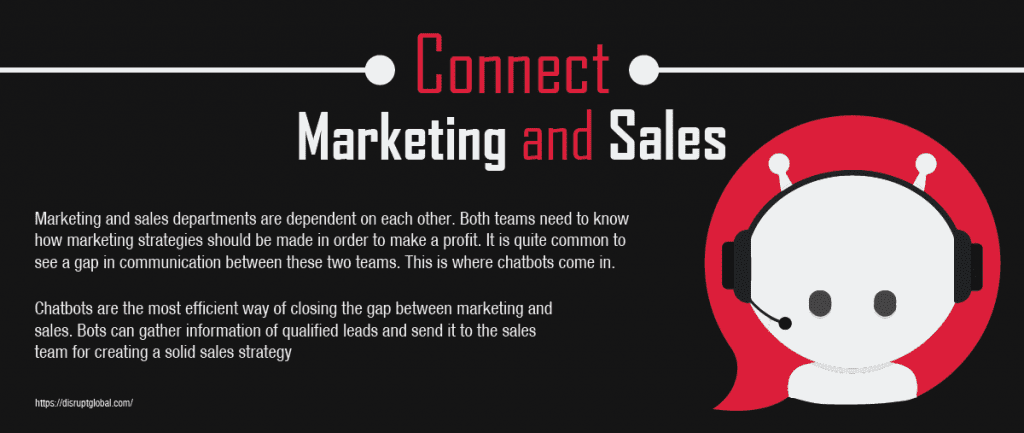 Connect Marketing and Sales
Although marketing and sales are considered to be the same, these two are completely different. However, both the departments are dependent on each other. Also, both teams need to know how marketing strategies should be made in order to make a profit. It is quite common to see a gap in communication between these two teams. This is where chatbots come in.
Chatbots are the most efficient way of closing the gap between marketing and sales. Bots can gather information of qualified leads and send it to the sales team for creating a solid sales strategy.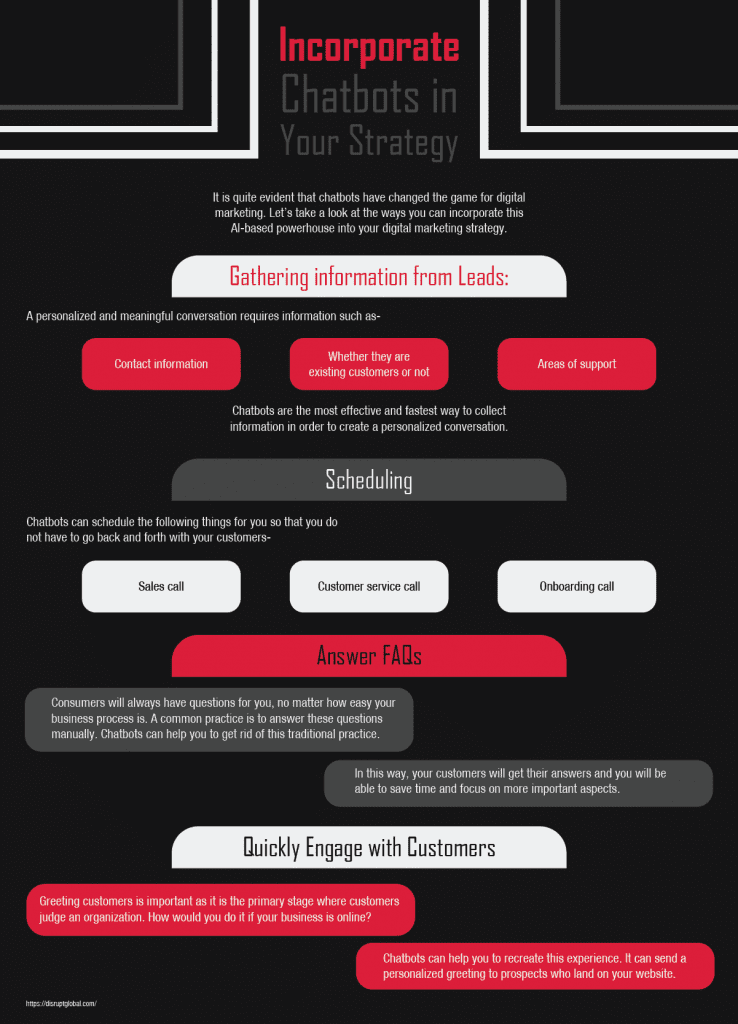 Incorporate Chatbots in Your Strategy
It is quite evident that chatbots have changed the game for digital marketing. Let's take a look at the ways you can incorporate this AI-based powerhouse into your digital marketing strategy.
Gathering information from Leads:
A personalized and meaningful conversation requires information such as-
Contact information
Whether they are existing customers or not
Areas of support
Chatbots are the most effective and fastest way to collect information in order to create a personalized conversation.
Scheduling
Chatbots can schedule the following things for you so that you do not have to go back and forth with your customers-
Sales call

Customer service call

Onboarding call
Answer FAQs
Consumers will always have questions for you, no matter how easy your business process is. A common practice is to answer these questions manually. However, chatbots can help you to get rid of this traditional practice and waste your time answering basic questions.
In this way, your customers will get their answers and you will be able to save time and focus on more important aspects.
Quickly Engage with Customers
Greeting customers is important as it is the primary stage where customers judge an organization. If it is a physical store, you could have a staff who would greet every customer. But, how would you do it if your business is online?
Chatbots can help you to recreate this experience. It can send a personalized greeting to prospects who land on your website.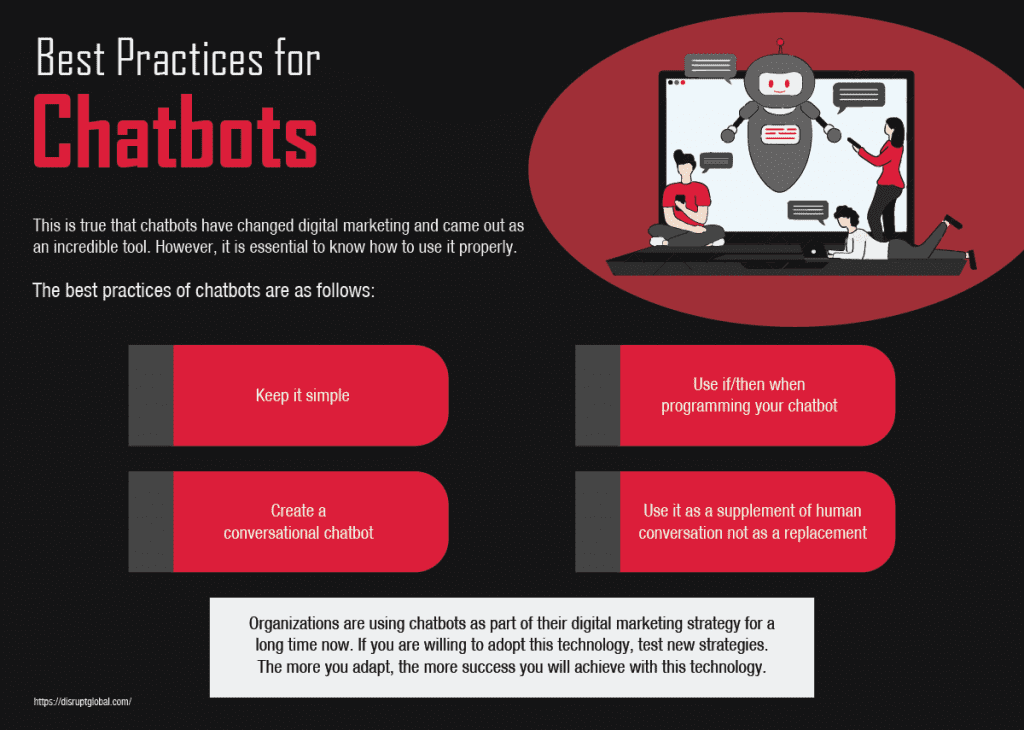 Best Practices for Chatbots
This is true that chatbots have changed digital marketing and came out as an incredible tool. However, it is essential to know how to use it properly. The best practices of chatbots follow-
Keep it simple
Use if/then when programming your chatbot
Create a conversational chatbot
Use it as a supplement of human conversation not as a replacement
Organizations are using chatbots as part of their digital marketing strategy for a long time now. However, it is still a new technology that requires many trials and errors. Like any other technology, it will evolve over time. If you are willing to adopt this technology, test new strategies. The more you adapt, the more success you will achieve with this technology.