How Some Companies are using ICT to Stay ahead of the Competition
Posted by. Disrupt Tech. October 17, 2021
Let's name 5 companies without thinking for more than a second. Do it yourself first!
Are you done?
Amazon, Apple, Google, Facebook, Netflix, Coca-cola, Tiktok, Uber. Does your answer match with more than one of these names? There's a high chance it does. It most certainly does! Even without reading your mind, we can guess, because it happens with almost every tech-savvy person like you!
Do you wonder why these companies are on top of your mind? It is not because we have read you, rather they are very competitive, always visible, & most importantly using Information & Communication Technology(ICT) to stay ahead of the competition.
Let's discuss how ICT is changing the business industries throughout the world.
Future of Businesses: Big-Data, Meta-Data, & ERP
Nowadays every top national company of 193 UN member states has adopted ICT. The rate of adoption is increasing among SMEs (Small & Medium-sized Enterprise) day by day. Social media usage is increasing the number of adoption by small to medium enterprises. Instead of using Data & Information, companies are using Big-Data, Meta-Data, & ERP (Enterprise Resource Planning) systems for understanding the patterns of the information collected.
ERP, BigData, & MetaData are interconnected.
♦ ERP – Enterprise Resource Planning software is used for integrating all the departments into a single platform.
♦ BigData – BigData is a concept of analyzing a large pool of information. To articulate the main concept of BigData, industry analyst Doug Laney used 3Vs;
♦ Volume – Collect large volumes of data using modern techs & software platforms like IoT (Internet of things), websites, social media sites, etc.
♦ Velocity – Timely collection of data in real-time.
♦ Variety – There are so many different forms of data. Financial, demographic, psychographic, structured or unstructured, text – image – video-based data & many more.
♦ MetaData – MetaData provides information about other data. There are several forms of MetaData.
1) Descriptive metadata
2) Structural metadata
3) Administrative metadata
4) Reference metadata
5) Statistical metadata
6) Legal metadata
♦ Artificial Intelligence (AI) – AI uses algorithms to predict the best suitable outcome by analyzing all the possibilities using supercomputers.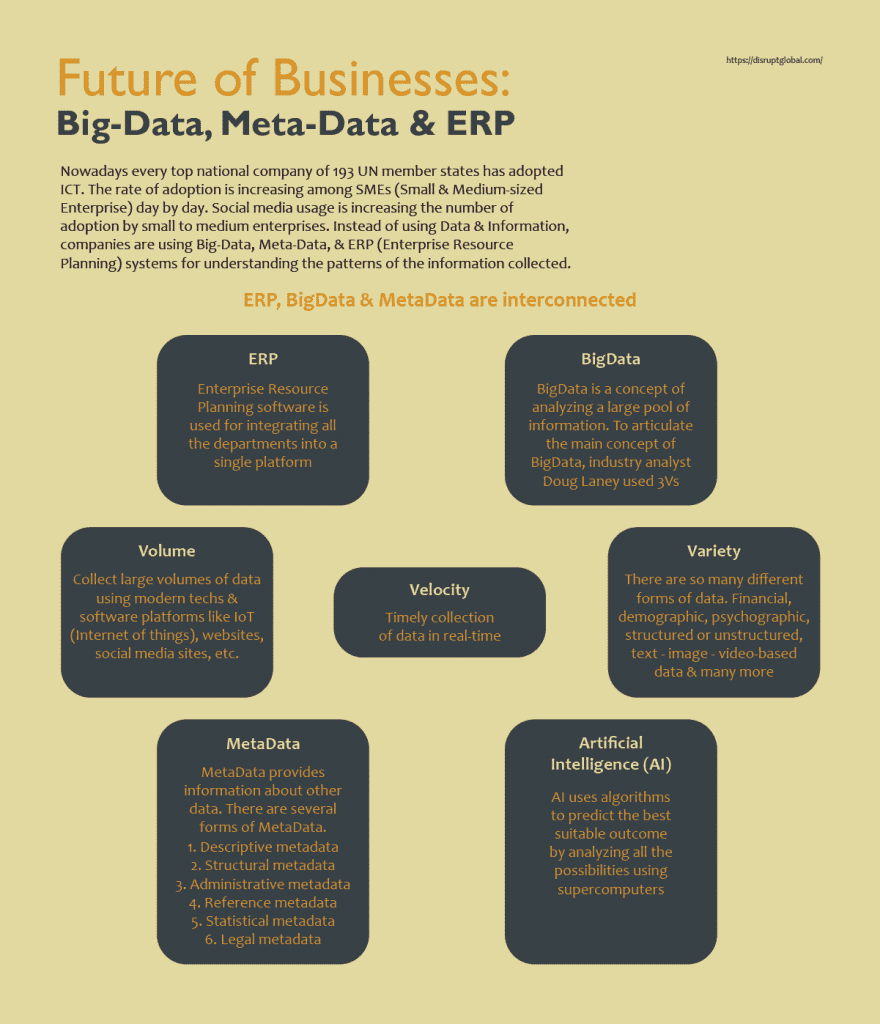 Companies that are using ICT to gain a competitive advantage
Some companies are breaking ceilings. Companies like Apple with a $2 Trillion market valuation have broken the ceiling and the sky. Elon Musk, the mind behind SpaceX has come up with a completely new solution to reduce rocket waste. Amazon the e-commerce giant has a 40%+ market share in the USA.
How are some of these companies doing it? Why are these companies constantly winning all the battles in this rigorous economy affected by so many external forces?
ICT Tools For Your Business
◊ Google – Google Analytics is a tool created by Google after the acquisition of Urchin. It helps to measure the ROI (Return on investment) of your web applications. You can identify the traffic of your web application, geographic location of visitors, the behavior of the visitors, study competition & bounce rates.
◊ Alation – Alation's products include Behavioral Analysis Engine, Open interfaces, & Data governance tools. These tools are mostly MetaData based.
◊ Oracle – You might have heard how efficient the ERP systems of Oracle are. These ERP systems can be customized according to your needs. With a few days of training, you can search MetaData and visualize.
◊ Collibra – Industry leaders like Lockheed Martin, Adobe, T-Mobile, Southwest use Collibra. It is used to structure the data in a unified way & create relational databases. It helps you to understand how & where your data is being stored.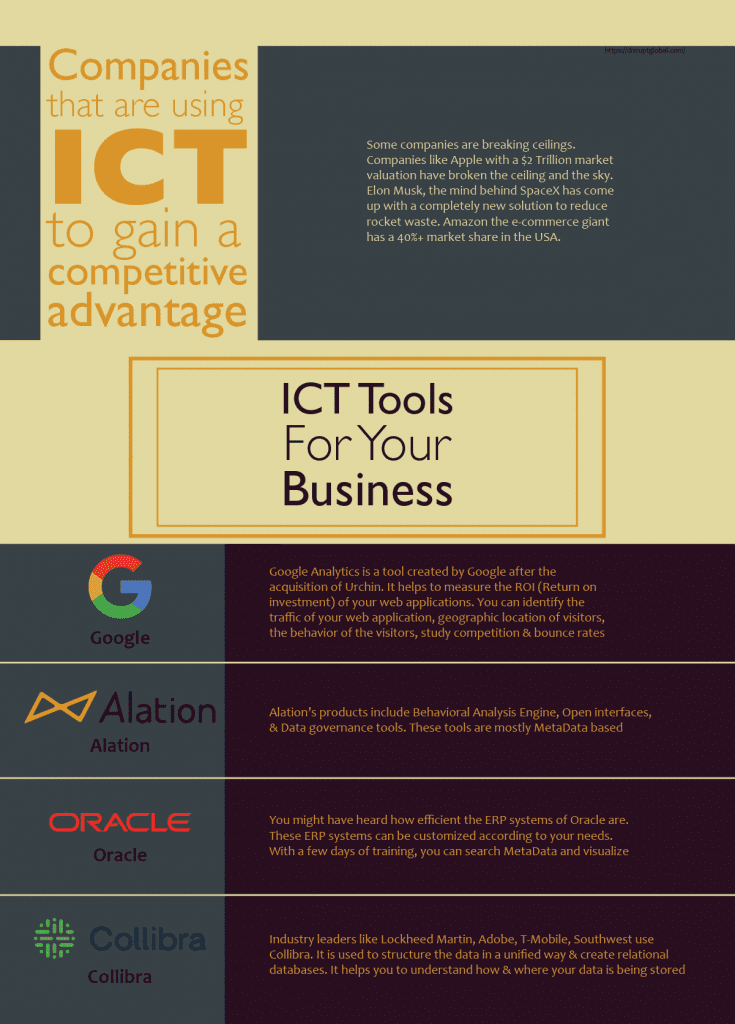 ICT Used In Business Departments
Technological advancement has disrupted traditional inter & intradepartmental communication. Before the mass adoption of computers, businesses used structured lists of items for communication. However, the days of slowness have gone.
Management
Businesses have been using ERP tools for the last few decades. Only large businesses could afford these tools. Currently, SMEs are enabling as the tools are cheaper to acquire & easier to implement. Let's look at an example of how School management tools have made schools more efficient in Malaysia.
◊ Administration of staffs: Schools store information of the teachers & blue-collar workers. The administrative head controls the entire process using centralized software.
◊ Web-based applications for students: The books, academic routines, & information of the students are kept along with the automation of the attendance system. Students & parents can access their data & necessary academic needs using the internet.
◊ Financial management: By recording the data of fiscal budget, salaries of the staff, fees of the students, & marketing expenditure, a school can adjust their decisions in real-time.
Marketing
Email marketing, Tele-marketing, SMS-MMS marketing are becoming things of the past. In 2021, companies are using BigData & MetaData for niche targeting. Social media has disrupted the entire industry. ICT in marketing is mostly used for;
◊ Reach – Advertising & PR
◊ Targeting the niche customer segment
◊ Market research
◊ Feedback generation – Customers gives their feedback to companies in realtime
◊ Brand awareness & positioning
E-HRM
ICT has enabled companies to hire the perfect people from diverse sectors. Linkedin has made headhunting easy. There are several E-HRM software to choose from to make your HR department dynamic;
◊ UKG Pro
◊ Oracle Cloud HCM
◊ TriNet
◊ Ceridian Dayforce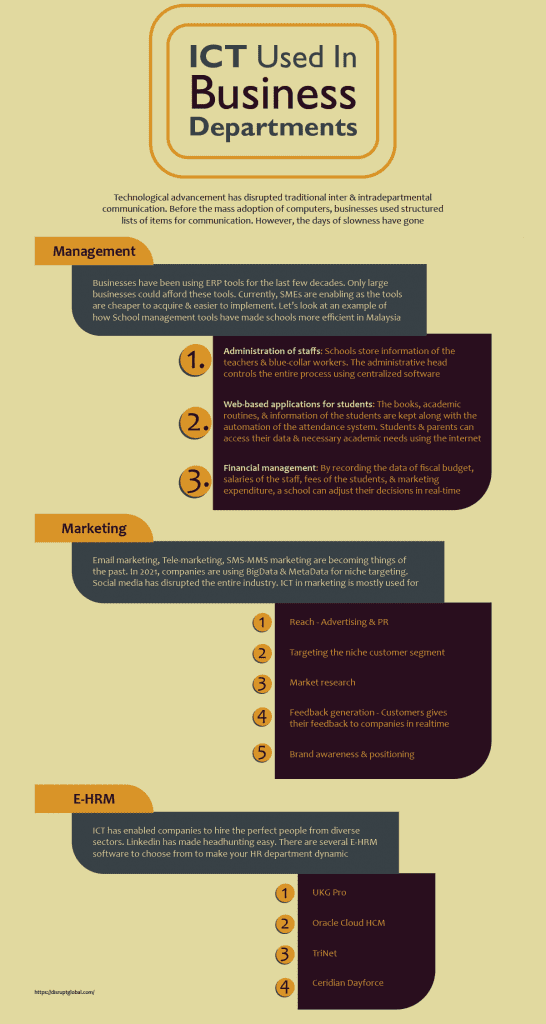 Use of 3D printing
The most revolutionary product of the 21st century has to be 3D printing after AI. The aerospace & medical industry are the prime users of 3D printing.
Use of 3D printing in the Aerospace industry:
♦ Jigs & Fixtures: 3D printing has reduced 60 to 90 percent of waste & cost of aerospace companies. Grips, jigs, & fixtures with hundreds of different types can be manufactured with very few dysfunctions.
♦ Highly detailed prototypes: Before going for mass production, companies have the capability of testing & analysis.
♦ Surrogates: Surrogates are mainly used for training purposes.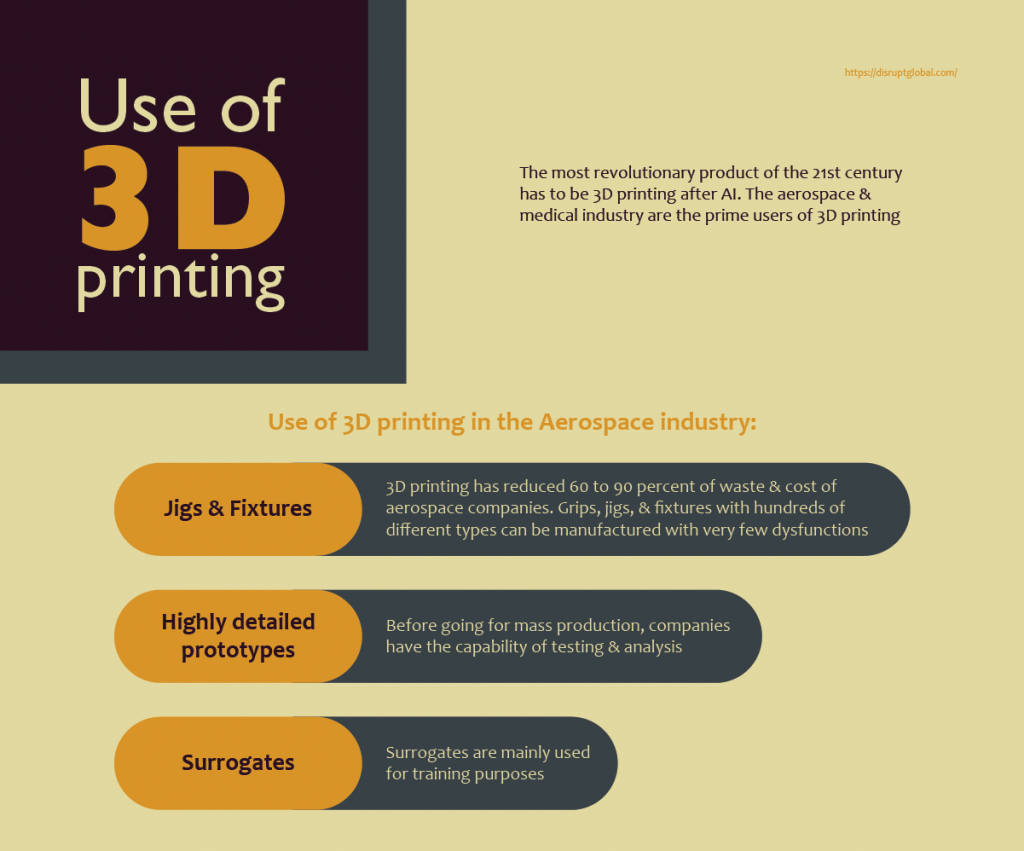 Artificial Intelligence(AI) & Robotics: Two wonder child
Artificial intelligence is an ICT wonder. It alone can disrupt traditional business practices. Machine learning is making robots close to human existence. As if, AI is the soul of robotics engineering. While AI is changing the world around us forever, robots are doing complicated tasks that only humans could do before. The future isn't so far when we can let the robots do the chores and humans can be more creative.
Let's take a look at the usage of AI in the businesses around us!
♦ Predict Behavior: Based on a person's behavior online, AI can predict what kind of product you may seek shortly. Thus, you may see a few ads of products online just when you need them.
♦ Automation of Works: IoT (Internet of things) smart devices are constantly collecting data & information to automate work. Such as digital payment systems, accept or cancel an order request, & doing other repetitive works.
♦ Image recognition: AI is fed with pictures captured on different devices all around for surveillance & analysis, so when a suspect needs to be identified, it is easy to do so.
♦ Predict Performance: AI can predict when a business may need extra inventory & financial projections. After analyzing the pattern of a large database, it can perform analysis to predict the future.
Robotics is a combination of all these AI mechanisms. Advanced robots use image processing to identify a task. Then uses AI to control motors & chips efficiently to complete the task.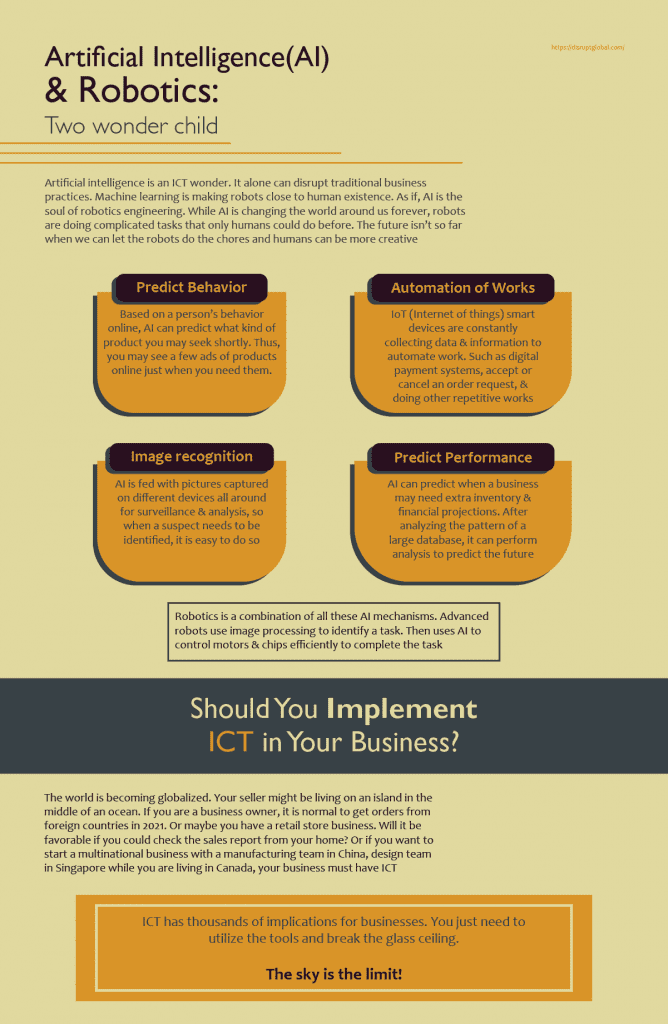 Should You Implement ICT in Your Business?
The world is becoming globalized. Your seller might be living on an island in the middle of an ocean. If you are a business owner, it is normal to get orders from foreign countries in 2021. Or maybe you have a retail store business. Will it be favorable if you could check the sales report from your home? Or if you want to start a multinational business with a manufacturing team in China, design team in Singapore while you are living in Canada, your business must have ICT.
ICT has thousands of implications for businesses. You just need to utilize the tools and break the glass ceiling. The sky is the limit!